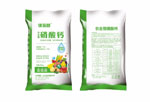 Formula: Ca(NO3)2.4H2O
Molecular weight: 236.15
Colorless, transparent monoclinic crystal, easily soluble in water, methanol, ethanol, easily tide angle in the air is the oxidant, the case of organic compounds, sulfur, burn and explode. Calcium nitrate anhydrous. Mainly used for the refrigerant, rubber industry, flocculant, but also for pyrotechnic tubes, available fertilizer. Storage: moisture-proof, sealed, not with organic matter, sulfur mixed transport. During transport to prevent the rain and sun exposure.
Packing: Woven bag or paper plastic compound bag lined with plastic bag.
Executive Standard:Q/140000JTL001-2014
Inspection Report
No.
Test items
Unit
Standard value
Test result
Conclusion
1
Appearance
Colorless crystals, soluble in water
in accordance with
qualified
2
Nitrate nitrogen (N)
%
11.8
qualified
4
pH (250 dilution)
5.0-7.0
6.6
qualified
5
Moisture (H2O)
%
1.7
qualified
6
Mercury (Hg) (calculated as element)
mg/kg
0
qualified
7
Arsenic (As) (calculated as element)
mg/kg
3
qualified
8
Cadmium (Cd) (calculated as element)
mg/kg
1
qualified
9
Lead (Pb) (calculated as element)
mg/kg
12
qualified
10
Chromium (Cr) (calculated as element)
mg/kg
6
qualified