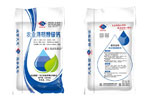 Formula: 5Ca(NO3)2·NH4·NO3·10H2O
Molecular weight: 1440.75
Property: White round granulation, soluble in water
Use: Nitrogen and available calcium, a new efficient compound fertilizer. Fertilizer fast, quickly fill the nitrogen, which is widely used for in greenhouse and large areas of agricultural land. Can improve soil, increase the aggregate structure to the soil caking. In cash crops, flowers, fruits, vegetables and other crops, the fertilizer extended flowering period, to promote the normal growth of roots, stems, leaves, to ensure that the fruit bright colors to increase fruit sugar. Green manure is an efficient and environmentally friendly.
Executive Standard: NY2269-2012
Inspection Report
No.
Test items
Unit
Standard value
Test result
Conclusion
1
Appearance
White or off-white, uniform granular solids
in accordance with
qualified
2
Total nitrogen (N)
%
≥15.0
15.7
qualified
3
Nitrate nitrogen (N)
%
≥14.0
14.5
qualified
4
Ca
%
≥18.0
18.6
qualified
5
Water insolubles
%
0.2
qualified
6
Particle size
(1.00mm-4.75mm)
%
≥90
97
qualified
9
Mercury (Hg)
(calculated as element)
mg/kg
0
qualified
10
Arsenic (As)
(calculated as element)
mg/kg
4
qualified
11
Cadmium (Cd)
(calculated as element)
mg/kg
0
qualified
12
Lead (Pb)
(calculated as element)
mg/kg
15
qualified
13
Chromium (Cr)
(calculated as element)
mg/kg
3
qualified